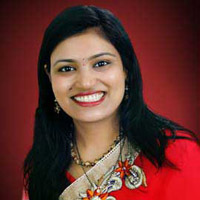 Dr. Mrs. Swati Atul Dongre is trained Gynecologist and Infertility Specialist. She did her MBBS from prestigious Government Medical College, Miraj and post graduation in Obstetrics and Gynecology from Mumbai. She has served as Resident Gynaecologist in VN Desai Hospital, Mumbai and also CSMH Municipal Hospital, Thane. She is the director of both Trupti Hospital and Santati Test Tube Baby and Fertility Centre. She is serving the society in her expertise field since last 10 years.
Her special interest is in Infertility, Recurrent IVF Failure, Elderly Patients, Post Menopausal Patients for IVF Treatment. Her infertility treatment skills and knowledge was aptly utilised by our Indian Airforce and appointed her as an honorary gynecologist at Indian Airforce, Yeour, Thane.
She is well known for her skills in treating infertility patients and makes her a leading Infertologist IVF Specialist in town. She has successfully treated thousands of infertility patients over years. She is renowned name in town as well state of maharshtra .
Her reputation and success rate has given her fame leading to treating a large number of patients from various states in India such as Uttar Pradesh, Gujrat, Himachal Pradesh, Karnataka, Bihar, Jammu and Kashmir. She is providing successful treatments to International patients from Dubai, Hong Kong, Ghana, Bangladesh, Nepal, China. UAE, UK, Newyork.
She has been actively participating in various international conference in Germany, London, Australia, Portugal.
Her volume of work and unparalleled success rate was acknowledged by government and bestowed upon various awards and accolades including Thane Bushan Award, Navdurga Award, Shivai Award, Lokmat Sanman Women Achiever Award and many others.